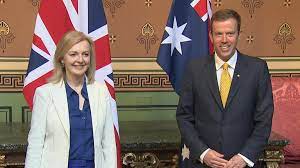 May 21, 2021 10:21 am
UK should not grant unconditional access to Australian food
On 20 May 2021, more than 20 NGOs called on the UK government not to open way to lower standards.
This letter came after it was made public that the Prime Minister, Boris Johnson, backs the conclusion of what seems to be an unconditional tariff-free trade agreement with Australia. While there had been some noises earlier this month that the UK was set to take onboard several of the recommendations made by the Trade and Agriculture Committee (TAC), notably conditions related to trade preferences, there has been no official confirmation of this.
TAWC members believe that the UK should not sign this trade agreement, unless trade preferences granted on animal products are conditioned to equivalent standards in England, Wales and Scotland.
Australia is an important producer of ruminant meat (beef and sheep), and animal welfare standards in these sectors – on farm and in relation to transport – are lower than in the UK. In addition to affecting the level playing field for farmers in Great Britain[1], an unconditional opening of the  market across England, Wales and Scotland could also lead to further stimulating unsustainable models of production.
For instance, in the beef sector, the use of feedlots is not uncommon and any increase of Australian beef imports into the Great Britain could imply, as these imports would not have to respect any specific conditions, further fueling the use of feedlots, which are not only detrimental to cattle welfare, but also to the environment. Also, Australian cattle and sheep can be transported for 48h without food or water.
Conditioning trade preferences in UK FTAs to the respect of higher animal welfare standards would be in line with the results displayed by the latest Eurobarometer, which showed that 94% of UK citizens would like to see all imports of animal products respect animal welfare standards that are applied in Britain.
What the UK will do with Australia will definitely be seen by other trading partners as an important precedent, and unconditional tariff-free access is not the one we should set.
Read more on our vision for a UK trade policy that cares for animals.
[1] Under the provisions of the Irish/Northern Irish Protocol, Northern Ireland continues to follow EU standards in agriculture and food production, and applies EU tariffs on food entering from other markets. As such, Northern Irish farmers will be unaffected in comparison to farmers in England, Scotland and Wales.