TAWC UK: Giving a voice to animals in trade policy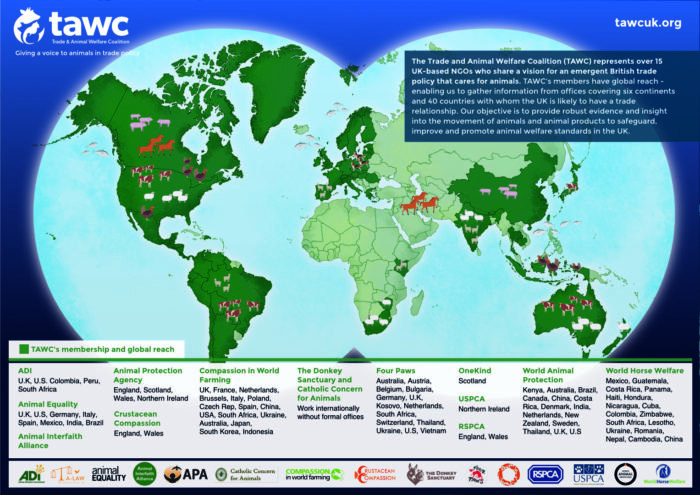 The Trade & Animal Welfare Coalition UK is a wide ranging group of organisations who have come together to share their knowledge and expertise on matters relating to international trade and animal welfare. TAWC aims to scrutinise and comment on current trade negotiations and on concluded trade agreements, as well as set a vision for an emergent British trade policy that cares for animals.
TAWC also monitors and documents the impact of the EU-UK Trade and Cooperation Agreement on animal welfare. Whilst the Government has committed to keeping existing animal welfare standards, TAWC will act as the watchdog to ensure UK trade policy does not put animal welfare standards under pressure by allowing for an unconditional increase of imports in lower welfare products. TAWC will also look for opportunities for the UK to use new trade agreements to promote higher welfare in partner countries.
As the Coalition includes members from Northern Ireland, Scotland and England, it is well placed to work across Governments and ensure a strong U.K wide voice for animals. TAWC believe that the UK should continue to act as a global leader on animal welfare, by helping to set international standards where possible, and by using its trade agreements as platforms to develop cooperation on the matter with third partners, including capacity building and technical assistance. The UK should also continue to cooperate with like-minded partners, such as the EU, to promote an understanding of the connection between animal welfare and other global challenges, such as antimicrobial resistance, climate change or the spread of zoonoses.
If you would like to know more about TAWC's work you can sign up below to be kept up to date on our news and any campaigns around trade and animal welfare.