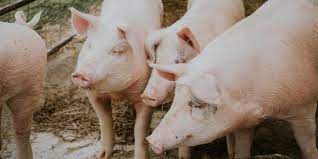 October 12, 2021 10:50 pm
The slaughter of healthy pigs on British farms owing to an ongoing shortage of workers at slaughterhouses and butchers is extremely concerning and reveals the lack of planning around UK food production systems. As it stands, the potential numbers at risk of culling are at 120,000 leading to huge damage to the UK pig sector and to the animals. More broadly, the wider meat industry is struggling with the labour shortages in abattoirs, butchers and farms as well as delivery workers linked to Brexit which is impacting financial viability across the spectrum. Not only do farmers lose the profit from the pigs going into the food system, they are also responsible for the safe and legal disposal of dead livestock. It has been reported that some pig producers are already losing an estimated £20,000 a week.
Farmers are either forced to stop mating sows or thin out pigs through culling, including reports of piglets being slaughtered. This alone threatens our aims to be seen as an international leader in animal welfare and sustainability. The long-term impact on farmers may well result in a lack of supply to meet demand and a reliance on imports from countries with lower welfare standards. TAWC is concerned that retailers are already importing pigmeat from systems that would be illegal in the UK.  In due course, the supermarket shelf will be filled with imported pork that fails to meet our welfare standards and undercuts British farmers. This goes against the choices the majority of British citizens want to make and they have been clear about that they want to see high animal welfare standards maintained.
TAWC calls on the Government to set out a comprehensive and sustainable plan on plugging the labour gap immediately including visas and incentives to abattoir workers and butchers to protect the UK industry from long-term economic and reputational damage. In parallel, the Government needs to set out a strategy on resource and infrastructure as well as a plan on training new workers to take up these valuable trades to support the meat processing industry in the UK and ensure it can deliver. Otherwise, trade deals with zero tariffs such as that done with Australia will mean our meat supply will be provided by other countries that cannot meet the environmental and animal welfare objectives we aspire towards and the damage to our farming industry will be extensive and irreversible.